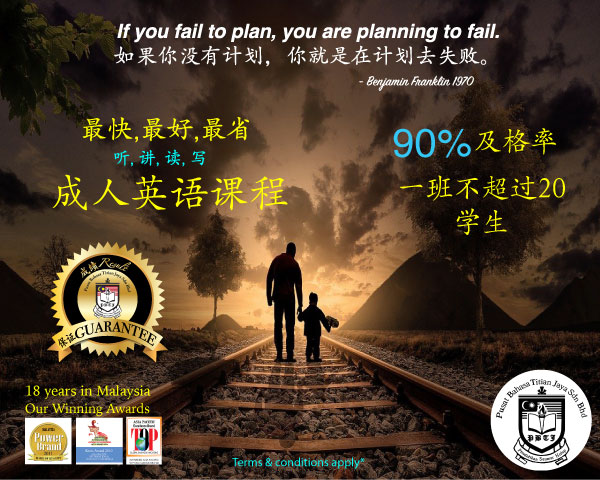 Learning English Confidently Special Promotion in 2021
How to learn English with confident, is not just a English course only. We need to plan well on the course that suit you and we will guarantee you with RESULT. Knowing HOW to learn and plan will save money & Time!
This will be the best English course promotion in 2021. You deserve the best it for 2021. Help us to understand you better. Click the "Free English Test" or send us your detail. Thanks
I just joined a one-month study course and found that the teachers' teaching methods are very good and very patient. This makes me very interested in learning my English, and I hope to improve my English better in the future.
I have been learning here for almost 3 years. From level 2 to level 4, they have a clear learning plan for all kind of students, teachers are kind and patience 👍👍👍
The Japanese language tutor I encountered was really caring and charismatic 🙂 i recommend whoever intends to learn Japanese shall consider studying in this Titian Jaya centre. 😀 Special thanks to the Director Mr.Steven Heng who had issued a confirmation letter of studying in Pusat Titian Jaya.
Balan 747 Balan 747
2020-05-26
The teaching materials are interesting, useful and easily understandable. The teacher is very engaging, experienced and friendly. It's also convenient to have lessons online. Definitely recommended.
Poon Mei Ling潘美伶
2020-05-03
In this MCO period, I wanna💯appreciate Mr. Steven informed me about the online class and schedule🙏🏻 Then, I wanna💯appreciate Mr. Chong teaching in this MCO period although I m never teach by him before coz I from another branch🙏🏻Here, I was grateful and glad that I could learn a lot english and his class really fun. BEST👍🏻 Thanks and Loving PBTJ.
teachers all work very hard.they spend most of their time preparing their lessons and helping students.during the isolation,let us learn online.teacher,you are hard ,and i wish you a happy holiday.
Easy learning step by step and understand.
Please remember to check your email inbox or spam mail. once you have applied it. Thanks
7 Months Guarantee, Risk – Free
We are the first school in Malaysia that will give a "Result Guarantee" with 7 months restudy on the selected packages. If you fail to achieve it, we will give you extra up to 7 months to learn for free as promised. (Terms & Conditions apply) Apply now our consultant will contact you soon.
Established in June 2003, Pusat Bahasa Titian Jaya Klang (PBTJ Klang) is an educational provider specializing in educating both international and local students. As an international company, PBTJ Klang aims to acquire breadth and depth of skills and knowledge to create an integrated education group with a comprehensive suite of capabilities and services that will be able to compete globally and at the same time meet the demanding needs of the clients.
We place equal importance in providing adult, teenager student and kids on their learning ability and application for their daily life which are influenced by the specific needs and key requirements of a location and region.
Offering programmes and courses to customers with over 18 years of experience. PBTJ Klang has the best selection in terms of Language courses, online courses and extra-curricular activities. Our main advantages are the flexible time of study, flexible payment plans, free sessions with zero additional charges for revision lessons. (Terms & Conditions Apply) With more than 30 different plans we are sure there will be the right plan for you!
Ministry of Education approval
We are also registered with the Ministry of Education.
International Honesty Entrepreneurs – Keris Awards
Asia Pacific Excellence Brand